Queenangelo.com – Choosing a light green bedroom color can be a tricky task. It is important to find one that is both neutral and attractive. The right light green paint can bring out the beauty of your home, while also complementing your furnishings.
Color Choices Suitable for Bedrooms
Whether you're building a new house or renovating an old one, Benjamin Moore's Limesicle celery green bedroom color is a great choice for a number of reasons. It's a pretty pale green that works with both light and dark-colored furniture, making it the perfect addition to a variety of interiors. It's no secret that green has enjoyed a long run as a popular color in home furnishings. There are many pretty green bedroom textiles and decorative items available. But it's a good idea to find a color that suits your style. And since your bedroom is the place where you spend most of your time, a color that reflects your personality will do you a lot of good.
Choosing a green bedroom color is a great way to bring the outdoors in. With a variety of shades available, you can easily add depth and texture to your room. When choosing the best light green bedroom color, consider how you will use it. For instance, you may want to pair the hue with a pale gray or brown for a warm, relaxing effect. Or you can go for a more contemporary look with black, gray, or white.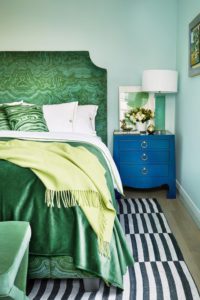 Another way to enhance your green bedroom is to add fresh flowers. The color can also give a Christmas vibe to your room. You can even make the wall half-green and have it diagonally divided. Whether you want to create an airy guest bedroom or add some zing to a more traditional space, Benjamin Moore has the right color for you. This light green bedroom color has a subtle touch of gray that makes it work in different design settings.
Ideal Color for Creating a Calming and Relaxing Atmosphere
A cool shade of green is ideal for creating a calming, relaxing atmosphere. It also works well with warm colors to create a cozy and homely look. For a more traditional feel, you may choose to use a darker, saturated green on your cabinets and trim. A light green that looks equally gorgeous against deep jewel tones and light neutrals is Benjamin Moore's Limesicle (2145-50). It's a crisp, pale green that is great for adding interest to any room.
Whether you're looking for a calm shade of green for your bedroom or an energy-boosting color for your bathroom, Sherwin-Williams Hazel is a great choice. It's a cool-toned bluish-green, reminiscent of typical teal, that exhibits a crisp, bluish-green hue in ample natural light. Hazel is a versatile hue that can be used on its own, paired with other bright or sweet hues, or used as a base color. It's a soothing, yet vibrant color that can make a small bedroom feel larger.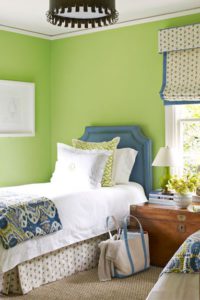 Hazel is also a nice choice for a home office or guest room. It's a calming shade of green that works well with lighter neutrals, such as white and light gray shiplap walls. Using Behr Premium Plus Paint Garden Sage C215 for your light green bedroom color scheme will result in a subdued yet stylish space that will leave your guests in awe. This color is a natural neutral that will complement most palettes, from pastels to brights.
Contemporary Feels by Opting for Simple Colors
The Behr Premium Plus Paint Garden Sage C215 is a good choice for a master suite, or any room in which you want a contemporary feel. The best way to incorporate this colour into your home is to add accents in a variety of hues. You may choose to keep it simple by painting the walls a pale shade of green, or you may prefer to take a more daring approach by adding an accent wall in a darker tone.
Choosing the right color for your walls can be a daunting task. There are literally hundreds of colors to choose from. The trick is picking the right one for your taste and style. Here are a few suggestions for what to paint your walls. The Spruce Best Home in Matcha SPR-07 is a dazzling shade of green. It's the perfect complement to a darker wood cabinetry. The color is also easy to coordinate with your rugs and curtains. This shade is a great way to bring your room to life.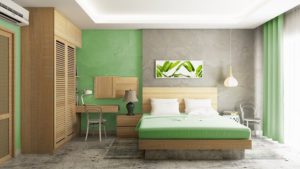 The most important rule of thumb is to avoid a color clash. The color should compliment your furnishings, not dominate them. It's also wise to use a contrasting color for the trim. It's also a good idea to pick a lighter tone than your furniture for a more balanced look. The light color will soften the rich glow of your dark oak cabinets.