Queenangelo.com – A Scandinavian Bathroom should be bright and airy. This design emphasizes natural light, which helps to maintain the brightness of the room and make the space feel larger. Using large windows can bring a great deal of natural light into your bathroom, but you should also use ceiling or wall-mounted lights. Modern LED lamps are an excellent choice for this style. Other decorative elements include mirrors, which can reflect natural light to make your bathroom seem brighter and larger.
Scandinavian Bathrooms in Accessories and Color Schemes
A Scandinavian bathroom can be achieved through simple changes in accessories and color scheme. You can try adding some warm textures to the room with new towels or baskets. Tones like gray can also be used to make your bathroom look warm and inviting. They are not flashy, but they add visual contrast and are ideal for bathrooms with monochromatic color schemes. Muted shades of green, meanwhile, act as neutrals and pair well with Scandinavian-style rooms.
A Scandinavian bathroom can also feature accent colors. The white or beige wall and vanity area both work well with accent colors. Accent colors should be the same or complementary to the base color. An interesting addition to a Scandinavian bathroom is a colorful wall accented with wood. Another option is a mosaic that can add character to the bathroom.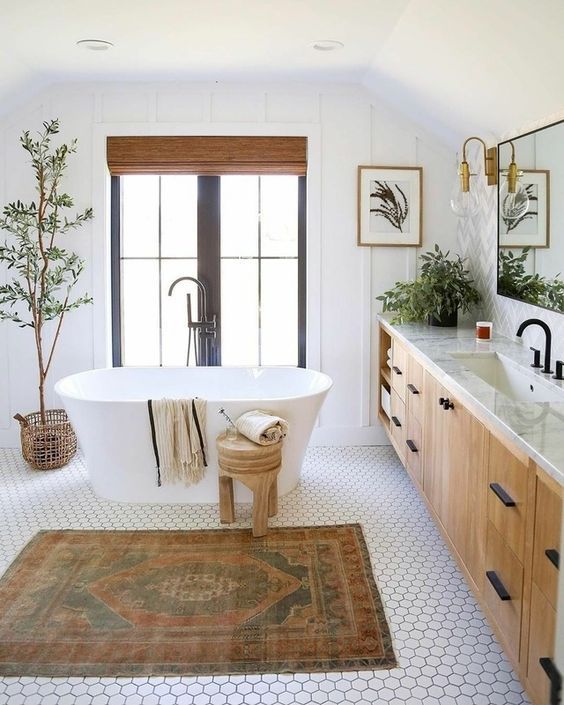 Lastly, a Scandinavian bathroom should incorporate plenty of storage. But, it should not feel too crowded. In small bathrooms, built-in desks and shelving are great storage options. Floating vanities are also popular, allowing you to have more space while incorporating additional storage underneath the sink.
Calming Scandinavian Bathroom Design
A Scandinavian bathroom can be very calming. The patterned tiles in the shower area contrast with the white vanity area. The vanity mirror is built into the wall and has a mirror with a backlight. A glass door separates the vanity area from the shower area. This makes the space look open and airy. The vanity area and shower have modern fixtures, including faucets and sinks.
For a modern Scandi bathroom, you can use various neutral colors and materials. White walls and floor tiles can be paired with black floor tiles and a black ceiling paint. This will give the room a light and airy look, but black accents can create a more cozy and enclosed feel.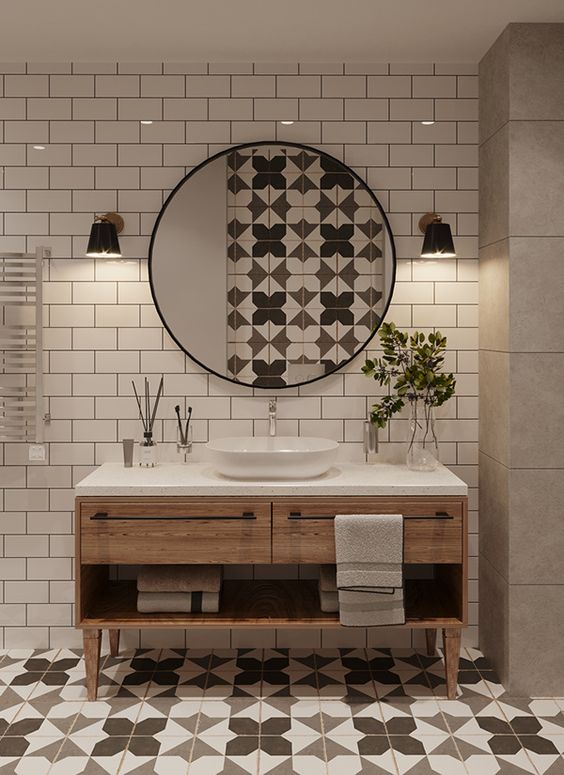 A Scandinavian bathroom can also feature wooden elements. You can choose to leave the wood in its natural state, or you can paint it white for a cleaner, more modern look. A wooden vanity is also a nice addition. There are many options available for a wooden vanity, including suspended ones. In addition, you can repurpose a wood cabinet and turn it into a beautiful sink unit.
Considering Choosing the Right Mirror
A bathroom mirror is another essential element in a Scandinavian design. A round bathroom mirror is commonly seen in a Scandinavian bathroom. It can be paired with a rectangular vessel sink to create a unique look. If you're looking for a bathroom mirror, consider choosing one that is in a shape that matches your vanity.
The color scheme of a Scandinavian bathroom is usually minimalist. In this design, the emphasis is on textures and light. Typically, Scandinavian bathrooms feature white tiling, unstained wood accents, and simple textiles. The white and black colors also make the room look cozy and contained. In addition, black grout against white tiles creates an elegant backsplash. It's the perfect way to add a touch of glamor to otherwise plain decor.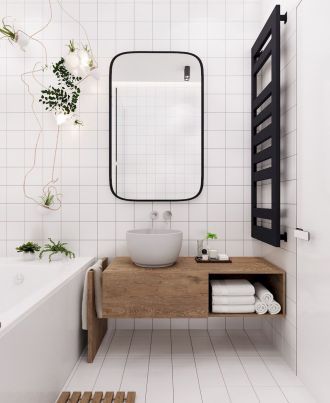 Another feature of a Scandinavian bathroom is its use of greenery. Greenery is extremely important to the Scandinavian lifestyle. Despite the harsh climate conditions, the Scandinavians embrace the botanical side of life. The use of hanging plants is a great way to add greenery without taking up valuable floor space. Alternatively, you can install a freestanding plant in a ceramic vessel.