Queenangelo.com – Adding movie posters to your home cinema is a great way to add flair to the room. You can hang movie posters around the entrance of your home theater room or throughout the entire cinema room. You can arrange them by color or film series, and switch out the posters with the seasons. Movie posters can be both original and vintage. Light boxes make excellent movie poster displays. You can also make them look more like a gallery than mere posters.
Consider Adding a Vintage Bar Cart
To complete the Hollywood look, consider adding a vintage bar cart or velvet drapes. Velvet is a perfect material for a home theater because it adds to the glamour of a movie. Velvet drapes can also be used as a backdrop for your home cinema. Velvet is a traditional material, but if you are more contemporary, you can try using aged leather or wood. Whatever materials you choose, remember that they should absorb sound and have a classic feel.
Whether you have an in-home cinema, a friend's or an entertainment room, you can design a room that suits your tastes. If you're a movie buff, consider a theme-based home theater design. Dark wallpaper will absorb light during movie viewing parties, while whimsical prints will speak to the other uses of the space. You can also add floor cushions to the seats. The room will be more comfortable with floor cushions.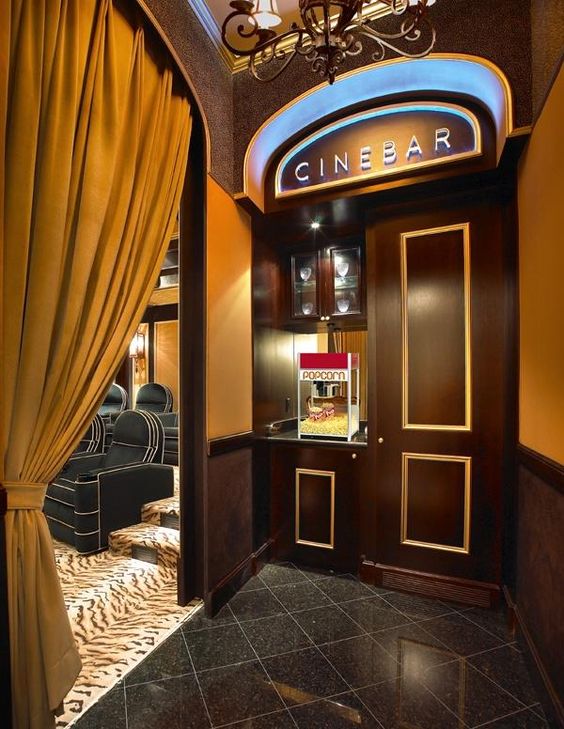 One of the most common concerns when designing a home cinema is the color scheme. While dark colors will help you create an immersive environment, you may want to experiment with brighter colors to add a splash of color. Dark colors can be effective, but be sure to consider the color scheme when picking the furniture and seating. The movie theater shown here is by Mary DeWalt Design Group. It features high-resolution movie screens and a hidden projector.
Added a Comfortable Seating Area
Adding a comfortable seating area will be important. Home theater chairs usually feature a snack/cup holder and reclining capabilities. This way, they can cater to movie lovers who want to eat while watching. Other options include bar counters with stools. And finally, consider your personal preferences. You can include a coffee or tea station, too. Then, you can add other small accents to the room. A little personalization will go a long way.
Adding movie theater-style concessions to your home theater is a great way to add a realistic feel to your cinema room. You can add your favorite snacks from the movies theater to the concession stand. A popcorn machine and pretzel warmer can help you recreate the movie theater experience right in your own home. A soda fountain is also a great way to add fun decor to your home cinema. If you can't find a space for a full-blown home cinema, you can add it to another room of the house instead.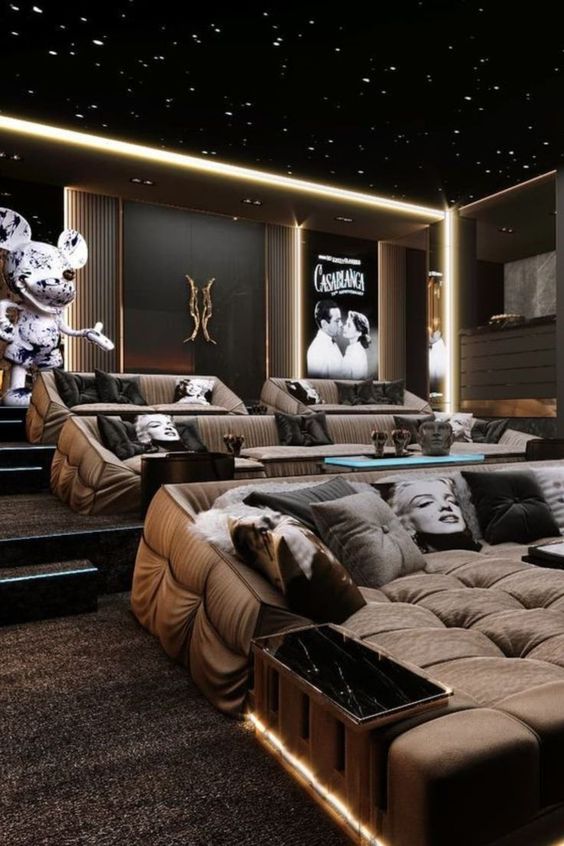 If you have a large screen TV and want to create a real home theater, go for a gray couch. Pair it with a black coffee table and you'll have a home theater worthy of movie nights. Gray walls are an excellent choice for a home theater. A small window on one wall will bring a bit of light to the room. If you have a window in your home theater, make sure to use a window treatment, as natural light from outside will reflect on the screen.
Creating a Good Lighting System
Don't forget about the lighting. Home cinemas shouldn't have glaring lights, so focus on ultra-soft ambient lighting. Short table lamps with white shades will not distract from the home cinema screen. In addition, avoid glaring ceiling lights and high-gloss lamps. A sconce can be an excellent addition to your cinema room. This can help you set the mood for any event. You can also consider putting up a low-voltage recessed lighting trim.
If you don't have a spare room, you can transform an existing room into a second living space. If possible, paint the walls dark colors, install carpeting to absorb sound, and outfit the room with plush furnishings. Incorporate lounge furniture to fit the aesthetic of your media room. If you have the budget, you may want to install drywall to create a sound barrier. However, if you're looking for a more elegant setup, consider using leather lounge seating.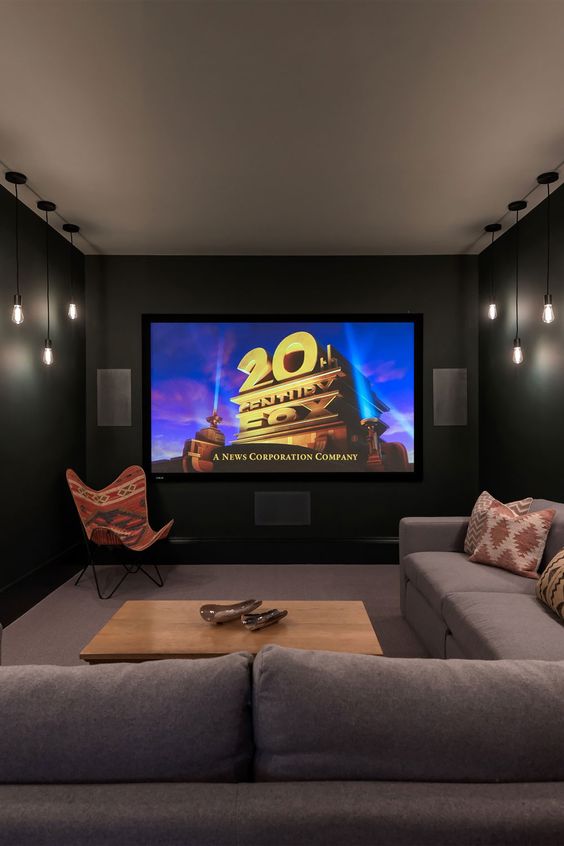 In addition to comfortable seating, home theaters can be equipped with a screen and several rows of chairs. If possible, elevate the second and third rows so that everyone can view the screen without squinting. If possible, make the aisles in your home theater 18 to 24 inches wide. Then, you can use cushions or blankets to add extra comfort. You can also place movie posters on the walls or hang a theater sign or movie poster.